Webteam:
July 2020
Daily Reflections for the Summer
We are currently gathering a superb selection of 'reflections from lockdown' to inspire and challenge us over the summer weeks. These reflections are mostly in the style of 'The Great 50 Days' and are being written by a variety of people from around our region. We expect to begin sending these out at the end of this month. Anyone who would like to receive these and who is not already on the Easter 2020 Great 50 Days distribution list can register to receive the emails here or can join in via the Learning Network social media accounts.
Opportunity to Share in Lectio Divina
In recent weeks the weekly Prayer Sheet has included a section on lectio divina. This is a method of reflecting and praying with scripture which dates back to the early church and particularly monastic traditions, but may not have been so familiar to us in Methodism in recent years. For those who would like to experience lectio divina in a group setting there are zoom sessions coming up where we will reflect on a bible passage together using the lectio divina approach. (Please note, these are not a 'series'. The second session will be a different scripture passage, participants are welcome to attend either or both sessions.)
· Friday 24th July @ 2pm
· Wednesday 19th August @ 7pm
Please email lnnortheast@methodistchurch.org.uk to book a place and receive the zoom link.
Worship Academy Bite Size Sessions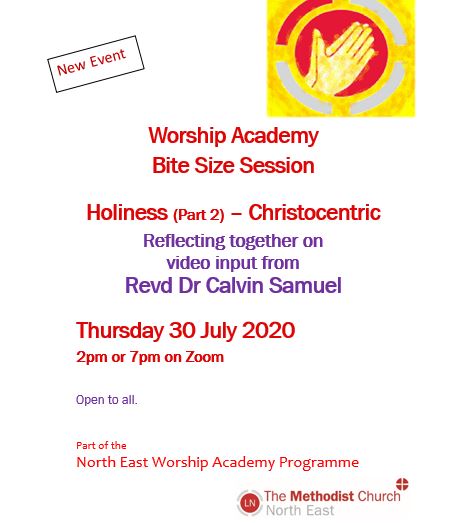 In a follow on from the successful Worship Academy day in May we are offering 2 opportunities to join a 'bite size' Worship Academy session on Thursday 30 July.
The same session is offered at 2pm and 7pm — choose the time which suits you best!
Each session will last approximately 75 minutes, including opportunity to watch Rev Dr Calvin Samuel speaking on Holiness, this time from a Christocentric perspective. There will be breaks in the presentation when we will reflect together in conversation on questions arising from Calvin's talk. Click here to book.
You may also be interested in