Webteam:
August 2021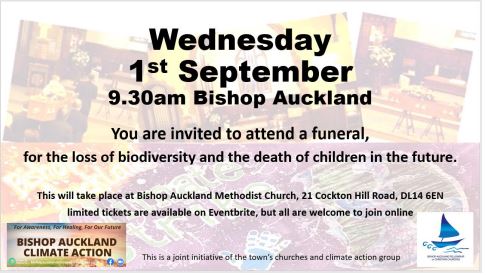 Something different is planned for the beginning of Creationtide. The churches are increasingly concerned, as are many others, about the loss of biodiversity and the changing nature of our planet. It will cost lives, and already lives are being lost, as agriculture and housing are under threat in different countries due to drought, flood, storm and the greater unpredictability of the weather.
Temperatures are rising because of historic and ongoing emissions, especially carbon dioxide from the burning of fossil fuels, and this has been evidenced this summer in record breaking temperatures in Europe and beyond, and the resultant spread of wildfires.
In our beautiful rural county of Durham, we have so much richness in flora and fauna on our doorsteps, but this is under threat. In a county list, the following are some of the priority species on a watchlist:
Black Poplar, Juniper, Pale Bristle-Moss, Yellow Marsh Saxifrage, Bats, Brown Hare,
Dormouse, Harvest Mouse, Hedgehog, Otter, Pine Marten, Polecat, Red Squirrel,
Water Vole, Corn Bunting, Linnet, Tree Sparrow, Skylark, Reed Bunting, Yellow
Wagtail, Lapwing, Curlew, Snipe, Redshank, Peregrine, Cuckoo, Grasshopper Warbler,
Grey Partridge, Kestrel, Mistle Thrush, Swallow, Yellowhammer.
How many of the above have you seen or heard in the countryside around us? Do you even know of the Mud Snail or Northern Brown Argus?
As a child whose summer holidays were spend on a farm, out in the fields and bogs, exploring hedgerows, I want the generations to come to have the same opportunities.
Bishop Auckland Climate Action alongside Bishop Auckland Fellowship of Christian Churches, with the backing and support of church leaders, including our own Chair of District, are organising this dramatic action and are together gathering to grieve our losses, but prayerfully call us to hopeful action.
You are invited to join us in-building or watch the funeral online.
You may also be interested in