Etherley Methodist Church enjoys outreach to its local community with regular events, fundraisers for local charities and a monthly Film Club.
The congregation has a creative flair. Harvests have been dedicated to supporting the homeless and the church was decorated with cardboard boxes and bins to represent cardboard city with two of the members sleeping in the church overnight to raise money for the homeless.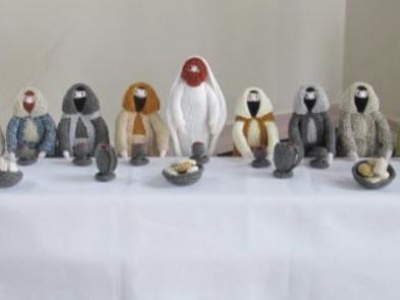 Included in the accompanying pictures is a fully knitted representation of the Last Supper, which is helping focus the congregations attention on Lent in the run up to Easter.
The Church exterior was recently decorated with plastic poppies, made by Church members to celebrate the centenary of the end of World War 1, and the local people who sadly lost their lives during the conflict.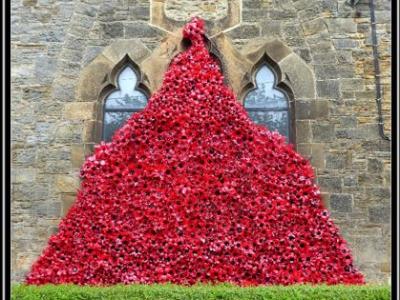 The Chapel and Schoolroom are ideal venues to hire for Conferences, Meetings etc, with adaptable space, modern kitchen facilities and audio and visual equipment.
Groups currently using these facilities are Tai Chi (every Thursday morning) which is strongly recommended by medical experts to assist health & well-being, a Cinema Club (usually 2nd Wednesday evening in each month) and the Wear Valley Photography Club (usually 2nd & 4th Monday evenings in each month). New members are always welcome at these events.
You can find the current Methodist advice in relation to Covid here.